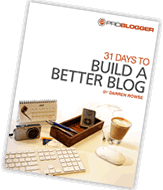 Would you like to have a better blog? Darren Rowse of ProBlogger, just announced some great bonuses for current and previous buyers of his ebook 31 Days to Build a Better Blog, or 31DBBB as it's commonly referred to. These bonuses are only good until January 19th so if you've ever thought about grabbing a copy, now is the time to do so. If you've already purchased it, you should have received an email from Darren by now explaining how you can get the bonuses. 31DBBB is very reasonably priced already (currently just $19.95), but with these extra bonuses it's an even better deal.
I wish I could tell you how 31DBBB changed my life. However, my story is a little bit different. I purchased 31DBBB soon after its release last year with the intent to use it on a political blog I had at the time. I made it a few days into the course, but ended up putting that blog on the shelf due to a lack of time and the fact that political blogs are somewhat difficult to monetize. It was something I was passionate about, but I just didn't feel I was getting rewarded for my time so I shelved it, along with 31DBBB.
When Darren announced his new bonuses, it made me think again about 31DBBB and my blog here on Ninja Blog Setup. This blog has been on life support for the past year and one of my goals for 2010 is to revive it and provide more useful information to my readers. I want to mainly focus on the technical aspects of blogging, but will touch on broader blogging topics from time to time as well.
Anyway, I'm digging out my copy of 31 Days to Build a Better Blog and will start going through the course again using this blog. Although I only completed a few days the first time, it appeared to be a really well put together course on improving your blog and growing traffic. This time, I'm going to document each day as I go through the course right here on the blog.
If you want to have a better blog  (and who wouldn't), why not follow along with me? It always helps you complete something when you've got someone to do it with! If you've already purchased 31 Days but haven't used it, dust it off now. If you've not yet purchased it, go grab it now while the bonuses are available. Either way, get ready to get to work!
Day 1: Baseball in an Elevator?
Day 2: Making a List and Checking it Twice
Day 3: Time to be a Pitchman!
Day 4: Watch Somebody Do It Right
Day 5: On Second Thought…