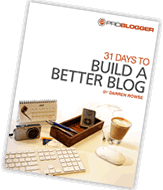 Let me start this series by stating that it will most likely take me more than 31 days to complete 31 Days to Build a Better Blog.

  My goal isn't to complete one task every day for the next 31 days. My goal is simply to complete the course in a reasonable amount of time. As busy as most people are nowadays, I think that is a more practical goal.
So here we are at day 1 of 31DBBB. Today's goal was to write an "elevator pitch" for your blog. What's an elevator pitch? It's a short piece of information that you can tell people when somebody asks what your business is about or what you do. The goal is to inform people about what you do or what your site is about and leave them interested and wanting to know more.
This is a good starting point Darren gives us because it forces us to decide for ourselves exactly what our blog is about. What is the main purpose of your blog? What do you want your readers to take away from it? If you're having to think very long about that, you're probably in the same boat as a lot of bloggers out there, so it's time to figure it out and develop your elevator pitch.
Here at Ninja Blog Setup, I provide technical services for bloggers who aren't interested in handling the technical (or ugly) side of blogging. It's kind of like changing the oil in your car. It's a dirty job and most people would rather take their car down to the local lube shop and pay someone to do it for them instead. That's the main purpose of my site, so I think my blog should mainly be focused on the technical issues of blogging. I want to provide my clients and readers with tips on tweaking their blog theme, various tutorials, informing them about security issues, passing on news about WordPress developments, etc. From time to time, I may stray from the technical arena and cover other blogging-related topics but for the most part, I want to keep this blog focused on the main goal of my site.
With that in mind, here's the elevator pitch I've come up with for Ninja Blog Setup: Ninja Blog Setup makes blogging easier by performing the technical services most bloggers don't want to do. I may refine this over the next few days but I think it's a good starting point.
What is your elevator pitch? What do you think about mine?