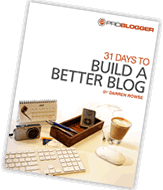 I've made it through day 2 of 31 Days to Build a Better Blog, but before I talk about today's task, let me say that I'm trying not to cross a line that I shouldn't cross as I document myself going through 31DBBB. I don't want this series of posts to be a free giveaway of Darren's ebook. However, I do want it to be something people can follow along with after they have already purchased 31DBBB. After re-reading my post from day 1, I feel I went a little too far, so from this point on I will try to speak about the results of my daily tasks without giving away the actual content of Darren's course. If you haven't yet picked up a copy of 31DBBB, go grab it now. It's very reasonably priced…less than the average book at Barnes & Noble.
Ok, with that said, today's task is about list posts. Darren gives us eight great reasons why list posts are powerful for bloggers and describes three different types of list posts we can incorporate into our blogs. I chose to do the "post as a list" type and published it as my most recent post before this one. It's titled 10 Free WordPress Themes That Look Like They Cost Money.
Let me know what you think. Also, feel free to post a link to your list post in the comments below!
Next up: Day 3 – Time to be a Pitchman!
There are varied remedies for sundry diseases. Several remedies are antifungal medicines. In definite instances pharmacies offer to them customers Viagra. If you're concerned about erectile problem, you have to study about "cialis daily" and "daily cialis". Probably you already know some about the question. Maybe "cialis for daily use cost" is an extremely complicated question. Matters, like "undefined", are linked many types of medical problems. A scientific research found that about 14 percent of patients taking Bupropion had sexual disfunction. Finally ordering remedies from the Web can save money, but keep these tips in mind.