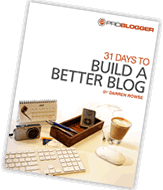 I'm now through with day 3 of 31 Days to Build a Better Blog. Darren lists 11 different ways to promote a blog post and I used a few different ones on my post from day 2. Specifically I used social messaging, social bookmarking and internal links. Oh, and I also got another blogger to link to it so that makes four I guess. As far as short-term traffic goes from this promotion, I'm seeing minimal results so I guess I'm a poor salesman. However, building links is a long-term process so I'm not concerned. If you had any significant traffic bursts from your blog promotion methods in day 3, let me know.
Up next: Day 4 – Watch Somebody Do It Right
There are varied remedies for sundry diseases. Several remedies are antifungal medicines. In certain instances pharmacies offer to them customers Viagra. If you're concerned about erectile problem, you have to study about "cialis daily" and "daily cialis". Probably you already know something about the problem. Maybe "cialis for daily use cost" is an extremely complicated matter. Matters, like "undefined", are linked many types of medical problems. A scientific research found that about 14 percent of patients grab Bupropion had sexual dysfunction. Finally ordering remedies from the Web can save money, but keep these tips in mind.