This video is an overview of the dashboard area of WordPress version 2.7.
I've also demonstrated what I think is the best new feature of WP 2.7 and that is the ability to search for and install new Plugins from right inside the WordPress dashboard.
A word of caution however: don't get a case of "Pluginitis." Just because it is easy, don't install 300 plugins. If your blog is brand new, sure try them out, but once your blog gets more established, the fewer plugins the better, as it will just slow your blog down and open up potential errors and security problems if you have too many plugins installed.
Click the image below or here for a video tour of the WordPress 2.7 Dashboard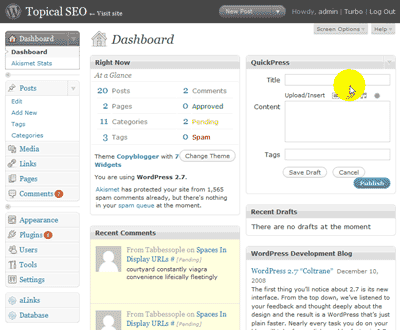 Here are a couple other resources for getting to know the new WordPress a little better:
WordPress 2.7 Upgrade Tips by Lorelle
2.7 the official release video on Ma.tt
First Look At WordPress 2.7 on Weblogs Tools
I've heard a lot of people complaining about all the changes and the new look of WordPress 2.7, but overall I think if you spend some time getting to know it, you'll find that there are a lot of major improvements.
The only thing that seems like an obvious oversight is to be able to install new themes automatically the way you can with the plugins (fingers crossed for this one in the near future).