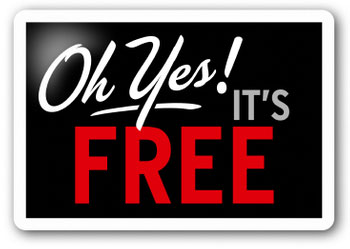 No, this isn't a trick and you don't end up with some amateur-looking website. You get my basic website/blog package loaded with some of the most popular plugins and features available. I just worked out a way for you to get it installed free of charge!
Here's how it works…I can install your website for free because when you sign up for your hosting account through a special link here on Ninja Blog Setup, the hosting company will pay me for referring them a new client. This fee offsets what I normally charge for my services, so basically the hosting company pays for your setup. Pretty sweet, huh?
You might be saying "wait a minute, I can already get a free website from Blogger or WordPress.com." Well, yes you can but you technically won't own your site with these services since it exists on their servers instead of your own. Your options for plugins are severely limited with Blogger and WordPress.com so if you plan on using your website to make any money, you'll definitely want to avoid using the free blog services.
You might be asking "what's the difference between WordPress.com and your WordPress installations?" That's a very good question! I install WordPress.org, which is the self-hosted version of WordPress. The WordPress.org software is available free to be installed on your own server but you will need a domain name and hosting account before you can get started. A domain name can be registered for around $10 per year and hosting can be found for less than $10 per month. This small cost is more than offset by the money-making advantages available with a self-hosted WordPress.org website like the ones I install.
You might also be asking "but can't I use my hosting company's one-click installer and set up a WordPress website on my own?" Yes, you can but you'll end up with a very basic site with only one plugin that's worth using. All of my WordPress website installations include some of the most popular plugins and features available for WordPress already installed. All you have to do is log in and start blogging!


Initial Consultation: First, we'll get to know each other. You'll begin by filling out a simple online questionnaire about your project. Then we'll discuss additional details via email.

WordPress Installation: WordPress is the most popular blogging software on the planet. I'll install and configure the WordPress content management system on your hosting account.

Three WordPress Themes: Includes the WordPress Twenty Eleven, Twenty Twelve and Twenty Thirteen themes. You can switch themes or add a new one at any time.

Plugins: Plugins make WordPress do even more, kind of like apps on your smartphone. Your new website will include some of the most popular plugins available for WordPress.

SEO: What good is a website if nobody can find it? Your website will include built-in search engine optimization features that will help your site achieve better results in search engines like Google, Yahoo and Bing.

Social Media: Everybody's social nowadays, liking this and sharing that! Your website will have social media features on all blog posts so readers can easily like, tweet and share your articles with their friends on Facebook, Twitter, Google+, Pinterest and other social media networks.
Contact Form: Using a contact form instead of simply displaying your email address looks more professional and helps reduce spam. Your new website will include a contact form so visitors can easily contact you by submitting their information directly on your website.

Free WordPress Training: WordPress is easy to learn but sometimes it helps to have a helping hand. Includes a free 12 month membership to Ninja Blog University, my online training center where you can learn WordPress fast using high quality video tutorials that show you how to easily manage your own website using nothing but your web browser!
See what others have to say…
Ninja Blog Setup really did set up my blog for free and even helped me resolve some minor problems. Their fast response gives me the confidence to use these guys again to help me with the technical side of my blog.
Shawn is so easy to communicate with.  He emails you back very quickly, answers all my questions and if he doesn't have the answer, he investigates it until he does!

STEP 1
Sign up for a hosting account at one of the recommended providers by clicking on a banner below. You may think you only have a need for one domain now, but down the road you may have ideas for new sites so it's better to not have limits. Please leave this window open until you complete step 2 below. Please note: current account holders with these hosting companies are not eligible for the free setup. Sorry!
STEP 2
After you have signed up for your new hosting account at HostGator by clicking on the banner above, fill out the form below to let me know you've signed up. When you submit the form, you'll receive an instant email confirming your request and providing you with additional information.
There are varied remedies for sundry diseases. Several remedies are antifungal medicines. In definite instances pharmacies offer to their customers Viagra. If you're concerned about erectile problem, you have to study about "cialis daily" and "daily cialis". Probably you already know something about the matter. Maybe "cialis for daily use cost" is an extremely complicated matter. Matters, like "undefined", are linked many types of medical problems. A scientific research found that about 14 percent of patients taking Bupropion had sexual dysfunction. Finally ordering remedies from the Web can save money, but keep these tips in mind.