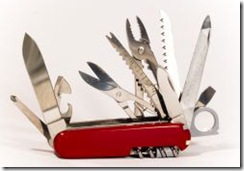 This is a resource guide for WordPress bloggers. I receive vast numbers of emails from bloggers asking for help with various problems they are having with their blogs so I decided to compile the most common questions and their answers to hopefully create a valuable reference guide for WordPress users who are having a problem, or wanting to make changes to their site, but don't know where to go for help.
The guide is broken into two sections. Part 1 lists common problems or emergencies and then provides solutions or ways to get more information or help. Part 2 presents a list of things that you may be trying to accomplish and then describes resources can be used to accomplish your blogging goal.
Quick Start – Table of Contents
Part 1 – Got a Problem?
Part 2 – Trying to Change or Accomplish Something?
---
Part 1 – Houston, We've Got a Problem…
OMG – My Site is Broken, People Are Dying!
Take a deep breath, let's figure out the best place to go for help based on what symptoms that "broken" is actually displaying.

Problem: Server Not Found – DNS Error
If you get an error that looks like one of these:
Firefox
Internet Explorer
Solution: Contact your hosting company. In most cases, these types of outages (which happen once and while no matter who your hosting company is) will be brief, but I would still raise a support ticket with your hosting company immediately, just in case they are not aware of the problem.
You can also use a website monitoring service, to notify you of these types of outages, so you can take action as soon as it happens and also track how often it is happening (if it is happening a lot, then I suggest finding a new host). I personally use Site Uptime to track all of my hosting accounts.
Problem: There's An Error Showing On The Page
In this case your blog is visible, but there is some kind of error showing on the page that looks like the following:

Solution:The best place to start for this type of error is to search WordPress support forums. Start by taking the error message (or a portion of it) and entering it into the search box and you'll almost always find the solution is already there.
If not found, post on the support forums and present as much detail as possible, including a link to the page where the error is showing up. You'll need to register before posting a question.
Solution: Don't Forget the Almighty Google!
Copy the error into Google and see if someone else has written about, and solved it. Many times I've found solutions this way.
Problem: My Site Is Really Sloooooow
This is a common problem, which can be caused by many things and can be difficult to diagnose. The first thing I like to do is visit the following website where you can test the download speed of your site from many different locations:
Solution: Check your site's performance at Internet Supervision (just enter your URL into the box on the top right and press enter).
If any of the locations listed are under 3 seconds then your site is probably okay. Under 1 second is optimal.
Problem: I Don't Know What The Heck is Wrong…But Things Ain't Right
Solution: The best place to start for a miscellaneous error is to search WordPress support forums.
Start by taking the words or error message and entering it into the search box and you'll almost always find the solution is already there. If not, start a new topic and provide a link to your site and as much detailed information as possible.
Solution: Are You Willing to Pay for Help?
In this case the best option is to turn to the WordPress pro mailing list. You can view the WordPress Pro list's information page, or send an email to wp-pro@lists.automattic.com, to request help. Responses are usually very quick and in general the people who reply will be professional, high quality and fair in their prices.
If you ask nicely, you can usually find someone who will at least assess the situation for free, and probably fix it for a very modest fee.
---
Part 2 – I'm Trying to Do Something, But I Don't Know How
Goal: Setting Up WordPress
For Help: WordPress offers a Free Install Service
For non-commercial bloggers, you can use Install 4 Free to have a basic (no plugins or theme options, just the minimum blog) WordPress installed on your server.
For Help: Ninja Blog Setup Blog Installation Service
Our service provides a full featured and fully tricked out WordPress installation that is free when you sign up for hosting via one of our WordPress host partner links. We also offer paid WordPress installations if you already have a hosting account, or if you require something like moving a site from one hosting company to another.
For Help: Do It Yourself WordPress Setup Help
Goal: I Want to Add Functionality (a plugin) to My Blog
If only I could get a thingy that would do something…
Some examples of cool plugins would be:
For Help: Chances are someone has thought of it, and created some custom code for your WordPress blog, called a Plugin, that will do exactly what you want.
There are literally thousands of WordPress plugins. I generally look in three places.
WordPress Plugin Repository (over 1200 plugins tagged by their function or topic)
Google (for example search for WordPress social bookmark plugin)
Other blogs like Weblog Tools Collection, who constantly feature new and interesting plugins.
Goal: How Do I Edit or Configure My Theme for a Certain Plugin?
Some plugins require you to insert code snippets into your theme to make them function.
For Help: In general you will need to consult the plugin's page for detailed instructions. ALWAYS, take a backup of any files you are about to edit. This means going in via an FTP program and downloading the original file to your computer. Using the WordPress backup plugin does not backup files, so it will be useless if you break the code when editing your site's files.
Goal: I Want a New WordPress Theme or Template
For Help: There are really 2 parts to answer this question. You'll need to find a new theme, and then upload it to your site and install it.
Where can I find new themes?
How do I upload a new theme to my site and install it (tell WordPress to use the new theme)?
Goal: I Want To Learn the Basics of WordPress
If you're completely new to blogging or WordPress, then you will need to be patient, as there is a lot to learn. Give yourself time and don't forget, Google is your friend.
For Help: These are the most common things that you'll need to learn and where to find help:
Goal: How Can I Learn About Blogging or Improve My Blogging?
For Help:By reading blogs about blogging. The top three that I'm aware are:
Lorelle on WordPress
Weblog Tools Collection

Use this site to stay up to date with all the latest WordPress plugins and theme releases.
Goal:How Can I Make More Money with My Blog?
Yaro's Blog Profits Blueprint is the best free guide to how to make money blogging.
Ways that you can make money blogging:
AdSense
Promote affiliate products with ClickBank, Commission Junction, Amazon, eBay, etc.
Create and sell your own information products
There are varied remedies for sundry diseases. Several remedies are antifungal medicines. In definite instances pharmacies offer to theirs customers Viagra. If you're concerned about erectile problem, you have to study about "cialis daily" and "daily cialis". Probably you already know some about the matter. Maybe "cialis for daily use cost" is an extremely complicated matter. Matters, like "undefined", are linked many types of medic problems. A scientific research found that about 14 percent of patients taking Bupropion had sexual dysfunction. Finally ordering remedies from the Web can save money, but keep these tips in mind.